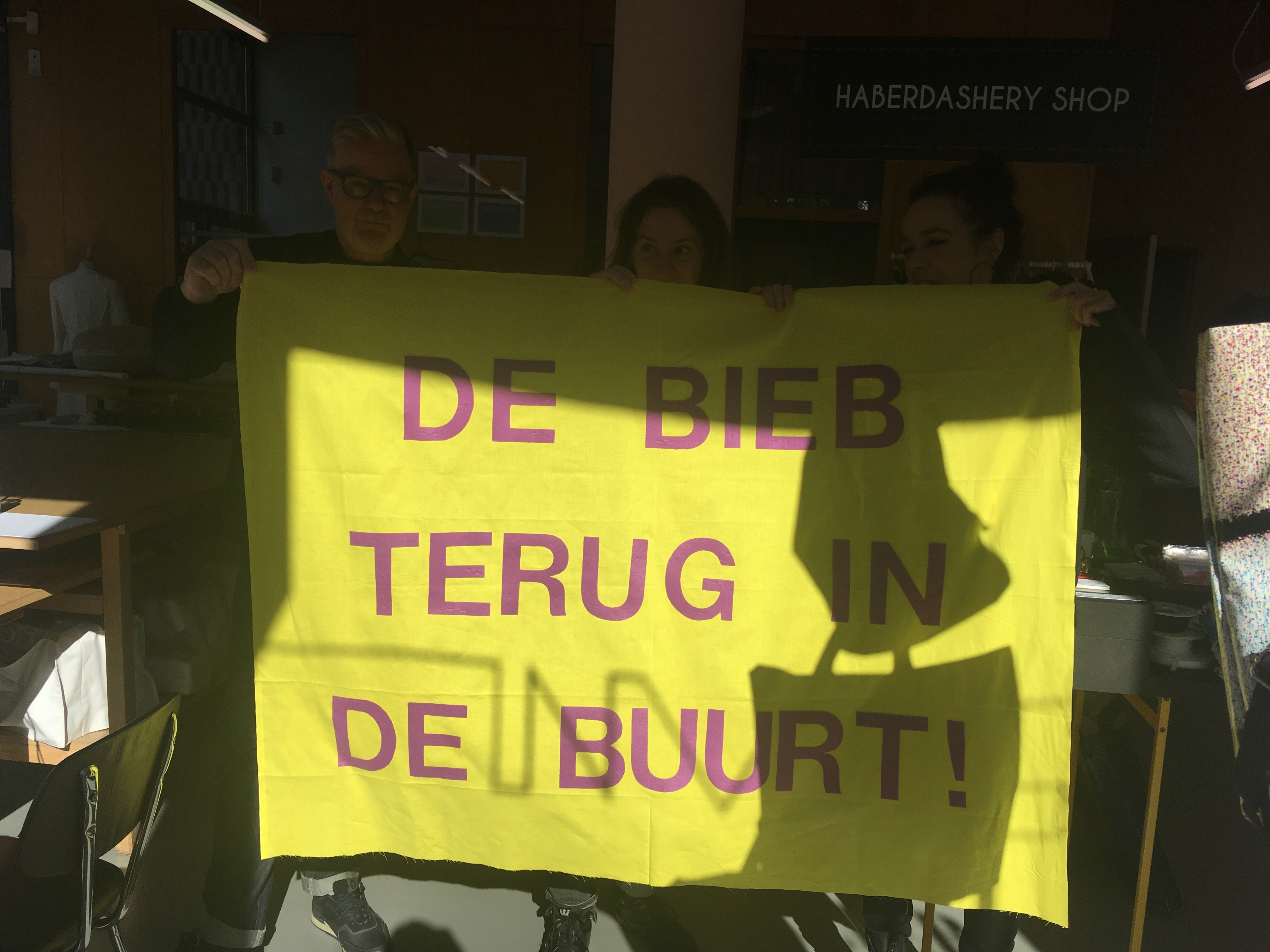 - ik mis de bieb -

buurtonderzoek

NEW ZINES!


OPEN DE BIEB!
protest t-shirts
en buttons
april 2021
Manifest der Biebgebruikers
workshop Pakhuis de Zwijger
28.3.2022

Public Library Of is een onderzoeksproject van kunstenaar Eva Olthof waarin wordt onderzocht hoe de openbare bibliotheek een (meer) democratische plek kan worden door de huidige staat collectief te heroverwegen door middel van kunst, publiceren, geschiedenis en filosofie.

Public Library Of is an art and research project of visual artist Eva Olthof which is examining how to make the public library a (more) democratic place by collectively rethinking its current state through means of art, publishing, history and philosophy.

Long-term partner:

Occasional partners: Leeszaal West, Huis van de Wijk de Dam, Pro Biblio
Collaborators: NM (Studio), Gabriel Curtin, KUNCI, Agent OH, Frans Ari Prasetyo, Joke van der Zwaard



het enige aandenken aan de buurtbieb van wijk Feijenoord te Rotterdam : de brievenbus...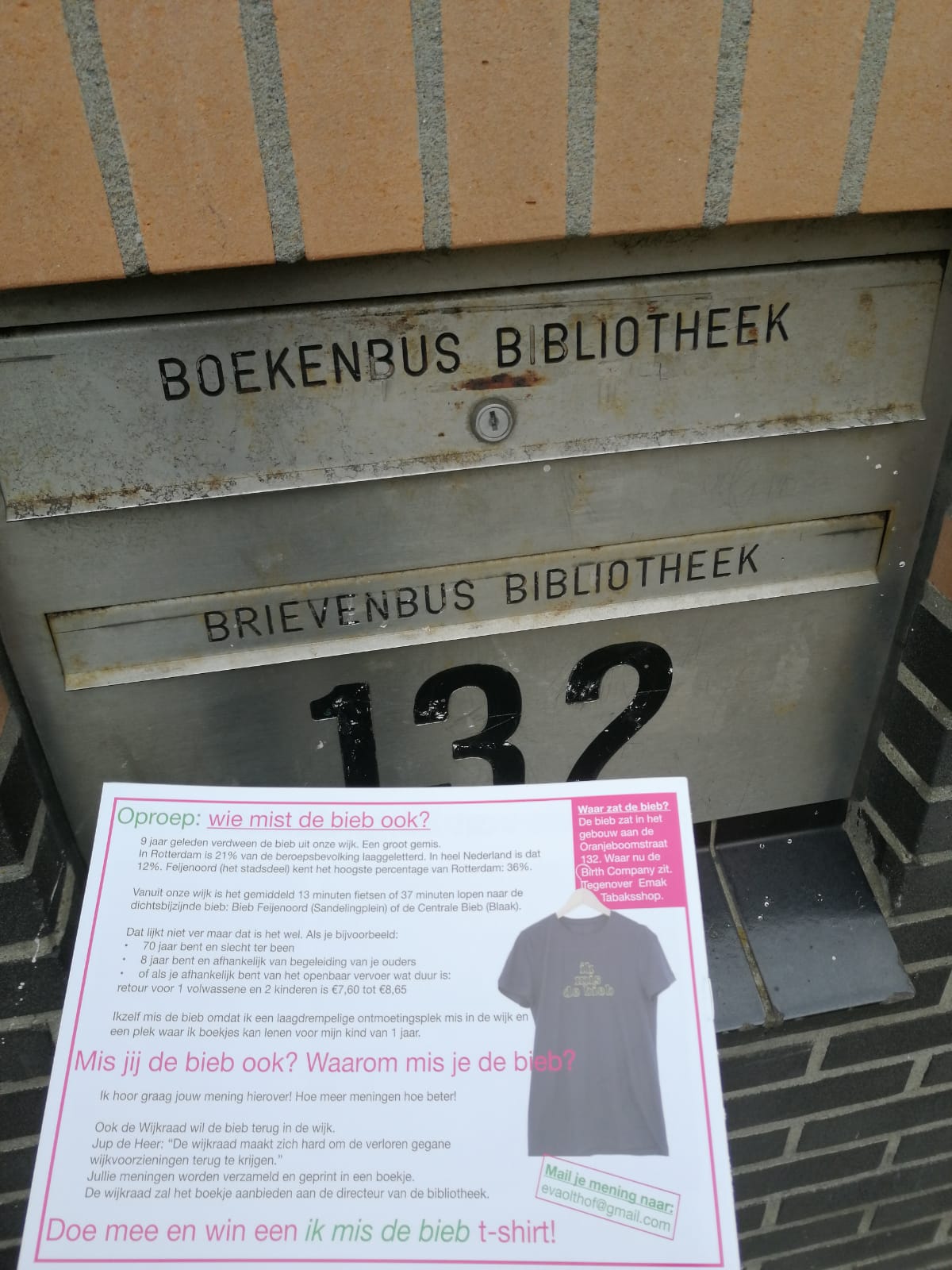 een spandoek gemaakt met Dolf en Inge van Leeszaal West in het kader van het project Protest Banner Lending Library bij PrintRoom
Woon jij in wijk Feijenoord en mis je de bieb ook? vertel het me via evaolthof@gmail.com

Zine Launch!
4.3.2022

PrintRoom

DISCUSSIE
KUNCI
December 2017

VOORSTEL aan
Centrale Bieb
Rotterdam
voorjaar 2021
Poster design commission for the Venster Zien/
Window Zine project PrintRoom Rotterdam June 2020

BUURBOEK HIER TE LEEN - is a poster designed and
distributed on invitation of PrintRoom for the project Venster Zien. Harnessing the great Dutch tradition of raamdecoratie, domestic window displays, PrintRoom created a series of riso printed posters for our neighbours to customise and publish in their windows. Buurboek is an idea that arose during the first Corona lock-down and the closure of the Public Library. The poster encourages neighbours to lend to and borrow books from the personal libraries of their neigbours.

BUURBOEKEN
HIER TE LEEN
posterproject

mede mogelijk gemaakt door Gebiedscommissie Feijenoord & Wijkraad Feijenoord! Opzoomermee.nl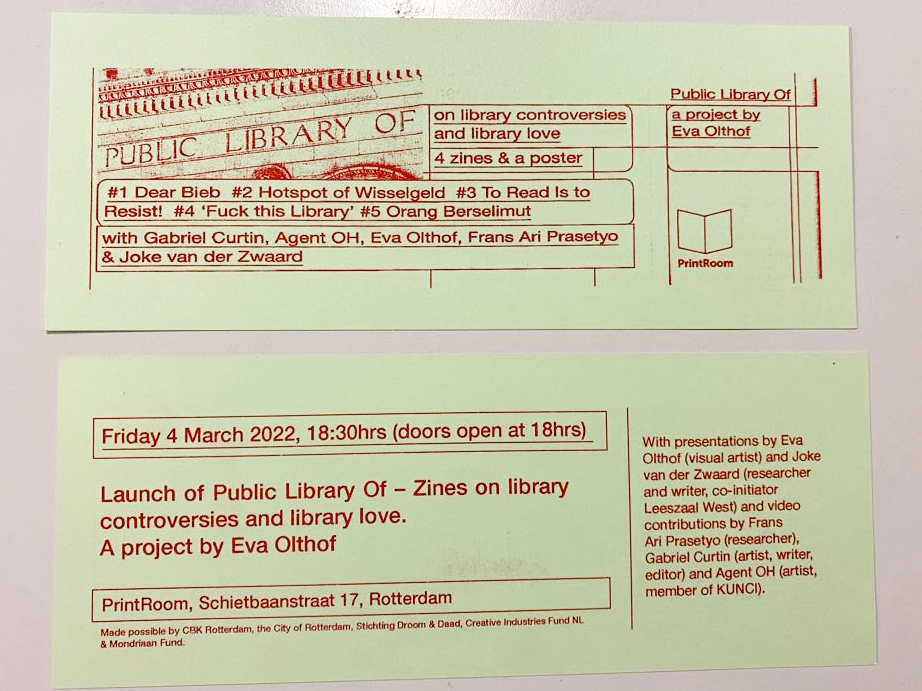 Contact:
evaolthof@gmail.com

Instagram:
eva.ol.shop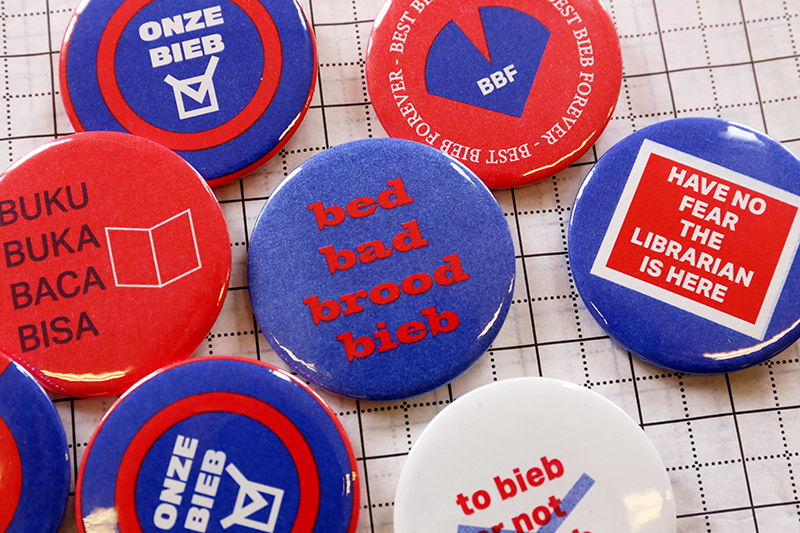 BIEBSPRAAK
kaarten en buttons

ism PrintRoom
ontwerp:
Teuntje Fleur

WORKSHOP
boekjes maken
alle zines bekijken?
klik hier!
see all zines?
click here!
manifesten bekijken?
klik hier!
view some manifests?
click here!
alle zines bekijken?
klik hier!
see all zines?
click here!
click here for
pictures
of the launch

met dank aan: